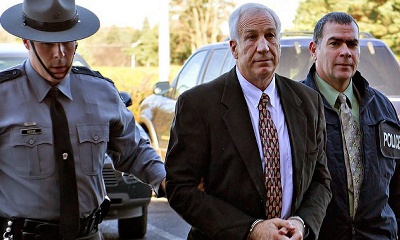 SMASH SEX OFFENDERS NATIONWIDE!
MAKE THEM PAY FOR POLICE AND PUBLIC SURVEILLANCE!

It costs money to keep tabs on sex offenders after their release from prison. Make
THEM
pay for unannounced monitoring on them every year!

A mid to upper level state trooper doing nothing but spot-checking sex offenders at their homes, workplaces, volunteer activities, churches, and other places where they could pose harm to children and young women can check 40 of these vermin about 40 hours each over the course of a year. This will be much more checking than is done on them now.

Sex offenders these troopers catch violating sex offender reporting laws or other parole laws go back to prison. The states already have these laws; they're just not well-enforced now.

Here's how the money works: Divide the cost of hiring each state police officer by 40 sex offenders and levy them this amount yearly. For example, if it costs about $80,000 a year to pay the salary and benefits of a trooper in one state, then this state levies each sex offender $2000 each year. If in another state the cost for such a state trooper is $100,000 a year in salary and benefits, then each sex offender in that state has to pay $2500 each year.

There are about 400,000 registered sex offenders nationwide. Purging the list of those who don't belong (there are some who are there unjustly) would still leave about 300,000 or so who richly deserve this mark of Cain. Making these vermin pay would enable the states to hire about 7500 state police nationwide doing nothing but surveilling the sex offenders. An average state (6 million people) could hire 150 of these officers. Bigger states would hire proportionately more such officers. Smaller states would hire proportionately fewer.

Constant unannounced checking of sex offenders, combined with independent verification of their residences, cars, jobs, schools, and other info, will keep most sex offenders from getting too comfortable. It will inconvenience their enablers, like mothers, honeys, relatives, and other associates. Sex offenders will get much more surveillance than they get now, which will prevent many rapes and murders of teenagers and younger children and young women.

Jerry Sandusky, ex-Penn State assistant football coach, is arrested. Many sex offenders lurk in teaching jobs and lurk in volunteer jobs to prey upon children. Others promise kids jobs or get involved sexually with moms of children they plan to molest.


SEX OFFENDERS MUST PAY FOR MONITORING TO PREVENT THEM FROM ABUSING MORE VICTIMS
!